The 2021 NSW Caravan Camping Holiday Supershow and Rosehill Gardens Racecourse are operating under COVID Safe Plans. This means things will be a little different this year to ensure we deliver a safe and enjoyable event for you.
All tickets must be purchased online in advance.
Upon arrival to the Supershow, you'll need to have your e-ticket ready for scanning and use the Service NSW COVID Safe QR Check-in Tool. 
Hand sanitiser will be available at each entry gate and multiple locations throughout the venue.
Dedicated COVID marshals will be present to ensure all aspects of our COVID safe plan are being maintained.
Regular cleaning will take place across the venue.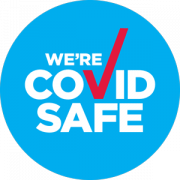 HOW YOU CAN HELP US BE COVIDSAFE
Please don't attend the Supershow if:

you are feeling sick or experience any COVID-19 symptoms. We recommend you get tested, no matter how mild the symptoms are.
if in the last 14 days you have been in a declared COVID-19 affected area or been in contact with a confirmed case of COVID-19.

When attending the Supershow practice physical distancing. Stay 1.5 metres away from other people who are not in your immediate group.
Follow signs and floor markings that will be present to assist in physical distancing.
Regularly wash your hands with soap and water or use hand sanitiser. Hand sanitising stations will be available throughout the Supershow.

Avoid touching your face.

Wear a face mask if physical distancing is not possible.
Follow all directions of Supershow and security staff whilst onsite, including traffic flow.
Follow the COVID Safe requirements for exhibitor sites within the Supershow including:

the maximum capacity allowed on a site at any one time.
the maximum capacity allowed inside a Recreational Vehicle (e.g caravan, motorhome) at any one time.
follow the signs for designated entry/exit points.

If you feel sick or experience any COVID-19 symptoms during the Supershow please notify a security or Supershow staff member immediately.
We recommend you download the COVID Safe App before attending the Supershow.
Please be aware that all food and drink outlets managed by the Racecourse will be cashless.
For the 2021 Supershow, you must purchase your ticket online before you arrive. No tickets will be available for purchase at the venue.
As per the NSW Government's requirements for record keeping, all attendees will be required to use the Service NSW COVID Safe QR Check-in Tool.  This will include adults, Concession Card Holders and Carers/Companion Card Holders who are attending the Supershow.
Visitors must ensure their e-ticket/s are available for scanning on entry to the Supershow.
COVID-19 ALERTS AND UPDATES
The Caravan & Camping Industry Association NSW is monitoring all NSW Public Health Alerts and will make any adjustments as needed to ensure we deliver a safe event.
Please follow the directions of Security/Supershow staff. Regular announcements will be made during the show to remind all attendees to maintain physical distancing and to practice COVID-safe behaviours.
WHAT HAPPENS IF I FEEL UNWELL AT THE SUPERSHOW
If you are feeling sick or are experiencing symptoms of COVID-19 when you are at the Supershow, immediately notify security or Supershow staff. They will help arrange for you to receive assistance from a medical personel.
WHAT HAPPENS IF THE SUPERSHOW IS CANCELLED OR POSTPONED
If the Supershow is cancelled because of a NSW Government directive due to COVID-19 your ticket price will be refunded minus any ticketing transaction fees. Refunds can only be made back to the credit card used in the original transaction.
In the event that the Supershow is cancelled any existing ticketholder will be contacted directly via email with more information. The www.supershow.com.au website will also be updated with the latest information.