THE BIGGEST & BEST SHOWCASE OF ALL THINGS
THE BEST & BIGGEST SHOWCASE OF ALL THINGS
6 DAY EVENT TUESDAY 13 - SUNDAY 18 APRIL 2021ROSEHILL GARDENS RACECOURSE, SYDNEY
The 2021 NSW Caravan Camping Holiday Supershow is back!
It's the place to come, get on board the latest model motorhomes, campervans, caravans and camper trailers; set up camp with all the newest and best equipment or tap expert knowledge on holiday parks across the state and country.
It's a massive showroom with lots of fun to be had and entertainment to be enjoyed. Most of all it's an opportunity to connect with experts as you plan your next adventure.
Discover and compare an incredible range of products all in one place.
We are operating in a COVIDSafe way, so all tickets must be pre-purchased online in advance.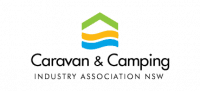 All RV exhibitors at CCIA events are licensed NSW Motor Dealers, which means you get protection through dealer guarantees and warranties applicable only to Government licensed dealers; so you can shop with confidence at any of our expos.
Dog Friendly
All dogs are welcome but as per the rules of the venue (and responsible dog ownership).
Be inspired and see how the tastes of NSW come to life on your plate presented by Australian TV celebrity chef Fast Ed.
Get free first-hand expert advice about the joy and challenges of caravan and camping at our daily seminars or catch a variety of short films at the Theatrette to get you prepared for your road trip.
Don't miss the kid friendly indoor and outdoor adventure activities these school holidays. Kids can get active and have a laugh on the Jumping Castle and slide down the Giant Inflatable Slide.
Don't miss the fun you can have watching John's Reptile Awareness Show. Learn about Australia's native snakes and lizards
Learn how to cast a fishing rod, test your fishing knowledge, catch a yabby and prizes to be won!
There's something for every taste and budget, you'll will find everything from barista coffee to healthy food options to licensed eateries and cafes including a sit down restaurant.
BOS Jockey Demonstrations
Demonstration of the long-awaited BOS Power Mover will show you how simple it can be to manoeuvre your caravan.
Come along to the Supershow and find places to stay and destinations to see. 2021 is the year of the great Aussie road trip.
Caravan and camping is Australia's favourite way to holiday. Come along to the Supershow and check out what it's all about.