It's going to be a
event not to be missed.


Our longest running caravan and camping event is celebrating 50 years and is better than ever!
On for 6 big days with over 300 Exhibitors and thousands of products on display, it's the ultimate way to check out what caravan and camping is all about in one great location.
Whether you're new to caravan and camping and wanting to discover what's available or an avid enthusiast wanting to update your equipment, you're sure to find something to suit.
It's the perfect place to pick up some great show specials, talk to an expert, compare products and plan your next holiday!
Visitors to the Supershow will see a huge range of exhibitors, hundreds of brands and a great range of displays showcasing the latest in:
– Caravans
– Motorhomes
– Campervans
– Camper & Tent Trailers
– Slide-Ons
– Tents
– Accessories
– Holiday Parks & Destinations
Free quality shopping bag
Free Show Guide
Talk to the experts
Show specials
Discover and compare a range of products
Disabled access throughout the Supershow **
We are a dog friendly show but they must be on a leash. When entering the indoor pavilions dogs must be carried at all times.
** Wheelchairs not available for hire.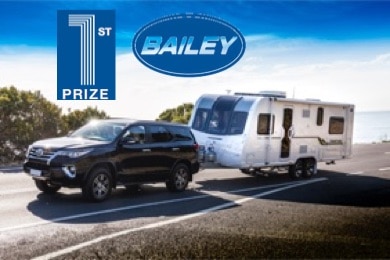 Visitors to the Supershow have the chance to win over $89,000 in prizes.
1st Prize is a Rangefinder Nebula by Bailey Caravans valued at $73,990.
NSW Permit LTPS/18/22604
Caravan and camping is an Australian favourite way to holiday

Come along to the Supershow and check out what it's all about