Getting to the Supershow is easy
There is FREE onsite parking at the Supershow.
On arrival, please follow the Supershow parking signs and parking attendant instructions.
With multiple parking locations across the venue, follow directions and instructions from the car parking attendants.
Shuttle buses transport visitors between the centre field car park and entry gate. There is also a pedestrian tunnel for connecting the centre field to the show.
Parking tends to fill up quickly each morning and we encourage you to allow additional travel time due to the construction of Light Rail around Rosehill.
On Saturday 17 and Sunday 18 April additional parking will be available at the Parramatta Speedway.
Free shuttle buses will run to the Unwin Street entrance of the Supershow from the Speedway.
Sydney Speedway
Trading as Valvoline Raceway
21 Wentworth Street, Clyde NSW 2142.
Disabled parking is available every day of the show in P3 off James Ruse Drive.
Follow the directions off James Ruse Drive and then instructions from the car parking attendants.
Please note, there is no disabled access from the centre field car park.
There is disabled access throughout the Supershow and lifts for indoor access, however there is no wheel chair hire facilities.
Public Transport is a great way to get to the Supershow. With bus, train and ferry options, this mode of transport will get you to the Supershow.
Plan your journey by using the NSW Trip Planner.
From / To Parramatta
The free shuttle bus will run from:
9.30am – 5.30pm, Tuesday – Saturday
9.30am – 4.30pm, Sunday
The free shuttle bus will be on a loop system between the Supershow (Rosehill Gardens Racecourse), Parramatta Station and Parramatta Wharf.
Departing approximately every 30 minutes from the station and travel to the Supershow, via the wharf and following the same route on its return journey from the Supershow to the Station.
Visitors catching the free shuttle bus from the Station exit Parramatta Station via the Station St exit (not the Westfield exit as this will lead to the wrong side of the platform). The bus will depart from Smith Street (in front of Sydney Water). Please look for Supershow Signs.
For your return journey, catch the free shuttle bus departing the Grand Avenue entry (if you caught the free shuttle bus to the Supershow pick up will be from the same place you were dropped off).
From / To Clyde
The bus runs to Unwin Street from the Sydney Speedway.
Sydney Speedway (Trading as Valvoline Raceway)
21 Wentworth Street, Clyde NSW 2142
There is a new regular Bus Route 535 that starts from Parramatta Interchange and services along the corridor of the T6 Carlingford Line (closest bus stop is corner of Hassall Street and James Ruse Drive).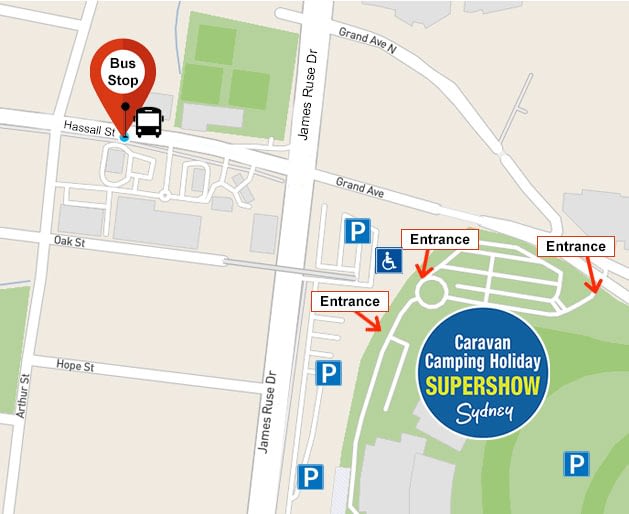 Rosehill Train Station on the T6 Carlingford Line closed in 2020 to make way for construction of the Parramatta Light Rail.